Venture Clincher
An I3 Business Simulation Exercise traversing Ideation, Incubation and Implementation
29th August 2017 at LIBA, Chennai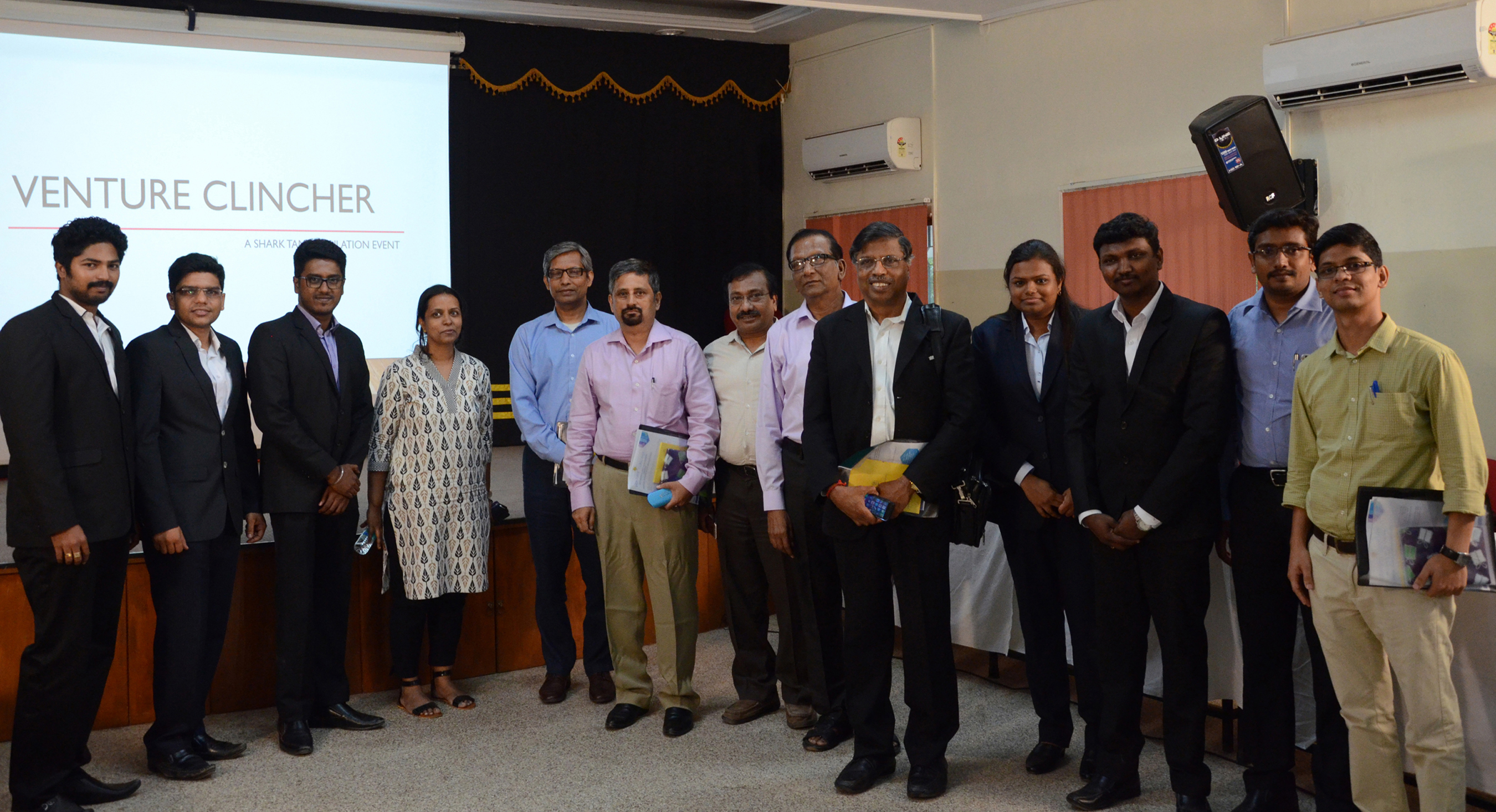 On the 29th August 2017 (1.30-4.30 pm at LIBA Auditorium) LIBA organised its novel and most recent initiative VENTURE CLINCHER, where practising Start-ups, Entrepreneurs, Academicians and Venture capitalists interacted with ten groups of student aspirants about their dream projects. The expert panel comprised Messiers Viswanathan, Ramaseshan, Muthu Ganesh, Irudayaraj, Kern L. Agarwal and Prof. A. Xavier Raj. The themes of the new ventures: Canine Care, Cocoda – The Natural Soda, Farm Fam, Fusion Food Lab, Sweetbox, Smart Power Case, Green Kart, Live Laces. The draft of the presentations were sent to the experts and their critical and searching questions, guidance, support, mentoring and handholding helped their entrepreneurial dreams gain a shape.
Venture Clincher is the brainchild of Fr. Francis Peter, Professor of Managerial Communication conceived as a practicum of the Managerial Communication done in collaboration with CKP Centre for Emerging India. This interdisciplinary simulation exercise provided the freshers with a context to hone their classroom learnings about strategic presentation, and get a feel for what the business world is like for the first time.
The take home for the participants
Gaining clarity and giving a shape to their initial concepts
Learning the practical issues associated with running a business
Confidence while facing a panel to present and defend ideas
Key Participants from LIBA: Fr. P. Christie, Director; Fr. Francis, Peter, SJ, Professor, XLRI and Dr. A. Xavier Raj, Chairperson, C.K. Prahalad Centre for Emerging India.
The Panelists included:
Mr. Vish A. Viswanathan, CEO of UBICS Inc., and an active charter member of The Indus Entrepreneurs (TiE). Mr. Viswanathan is an angel investor/mentor with The Chennai Angels. He is also a member of the Advisory board in several start-up companies in US and India and actively mentors young entrepreneurs to help them grow and succeed with their startups.
Mr. Ramaseshan is the CEO and Director of BHI Capital Advisors Private Limited, Chennai, an outfit of Berggruen Holdings (USA). He has 25 years of experience in Finance and Treasury. He is also the Financial Advisor for various Fund Managers and Foreign Investors like Berggruen Holdings (USA), IREO etc.
Mr. Muthu Ganesh is associated with DOW Chemical Company, Chennai in a senior position. He was associated with top consulting companies Viz. McDermott, Petrofac, Foster Wheeler for more than a decade now. He is in Oil, Gas and Petrochemical industries.
Mr. Irudayaraj is the Senior Manager - IT at 'Aban Offshore Ltd' and takes care of overall IT initiative. He has 29 years of experience in IT functional area to enable the computerization for the company.
Mr. Kern Luke Agarwal is a consultant with Naandi Foundation for a Solid waste management project at Mahindra world City, Chennai. Kern is also the Director of Carbon Loops, a waste management startup company, involved in organic farming and curating technology for rural areas.
Prof. A. Xavier Raj, Professor of Entrepreneurship Management at LIBA, is the Chairperson of C.K. Prahalad Centre for Emerging India and heads the Inclusive Innovation Impact Centre (L3iC). As an Intrapreneur, he has established two specialist divisions in Multinational Global Market Research firms to provide research and consultancy services to development organizations, the UN and the governments.