A Think Tank: Options for Bottom Half of Economic Pyramid
A Strategy document

Vision: Consistently pursue business ideas identifying patterns relevant in a dynamic social, economic, political, market and environmental conditions 21st century conducive for promoting inclusion, equity, participation, collaboration, prosperity and sustainability.

Mission: Establish Prof. C.K. Prahalad Centre in the global map for entrepreneurs, management professionals, policy makers, social scientists, scholars and students as go to place, a world-class business innovation, incubation, research and analysis centre.

Governance: A sound governance framework ensuring required autonomy, self-direction and committed to broad vision, mission and outcomes.

Approach:
Situate centre's practice in the context of latest advances in business, administration, human resources, social value creation, co-creation of products / services, and environment sustainability.
Focus on improving business eco-systems for increasing number of business entities functioning With economic, social, environmental and collaborative edge.
Converge stakeholders for ethics and equity focus, environment friendly technologies, retrofitting for increase 'degree of social enterprising' and collaboration for shared prosperity
Collaboration with industry, business, technological institutions, business schools, governments, NGOs and other stakeholders
Create platform for sharing, exchanging, testing and utilization of ideas
incubate new business ventures, including social enterprises - products and services
Outcomes:
A dynamic centre with multiple activity focus to renew, revitalize and expand business ideas
Centre encouraged active collaborations with various stakeholders pursuing social equity with an environment sustainability focus
Over a period centre has stimulated adoption of:
business strategies for improving BoPsales;
BoP entrepreneurs successfully set up and run business;
corporates havestrengthened social value creation process integrated into business model;
regularcontribution of research articles by practitioners, staff and students in international business journals;
convergence of stakeholders enhancing benefits particularly contributing toreduction in poverty; and
encouraged positioning collaboration as profitable business option valued for its impact on shared prosperity
Advisory Board: Constiute an Advisory Board and Convene Quarterly Advisory Board Meetings. Advisory board to consist of eminent persons representing industry, businesses, finance sector, governments, international organisations and other eminent accomplished persons.

Working Group: Set up a working group that works closely with CKP team on a day to day basis forging collaboration with businesses, innovators, entrepreneurs, institutions, governments and society.

Focus areas of activities: The centre shall promote consultancy, capacity building, action research and courses.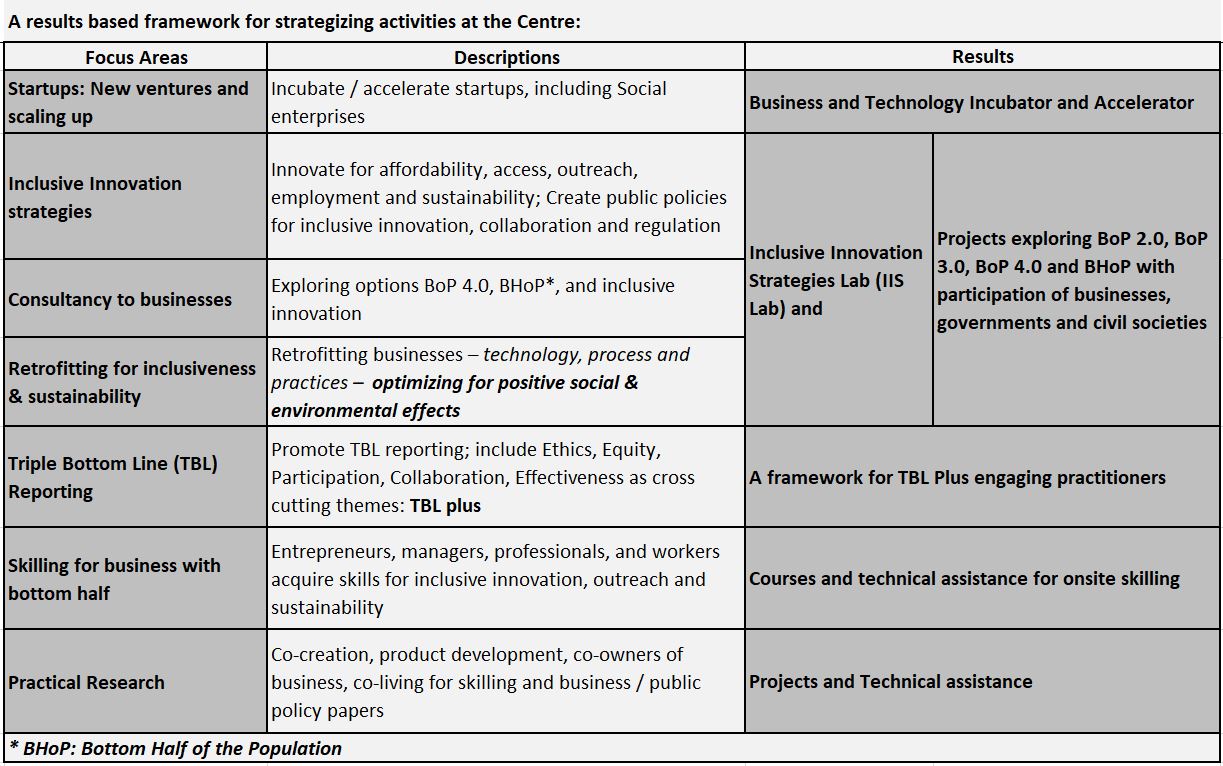 Description of activities
1. Business incubator and accelerator
Identify collaborators: technology incubators, investors, grant providers, executive mentors, etc.
Set up a full fledge incubator and accelerator, securing funds and partners' engagements
Set up impact investment fund: retrofitting of existing businesses and greenfield social enterprises
2. Inclusive Innovation
Set inclusive innovation labs: Ideation space, maker's space & fabrication lab
Conduct boot camps / workshops for innovation in goods, services, SEl and Social Enterprises
Facilitate business to develop internal systems to innovate for affordable products and services
Contribute to public policies for inclusive participatory eco-system
3
.
Consultancy Businesses



4. Retrofitting for inclusiveness and sustainability
Innovation in retrofitting businesses – technology, process and management practices – format, fnance, impact, products, services employment generation, and engagement ofbottom half
'lncreasing Degree of Social Enterprising' in a business, which allows enterprise to increase intent, talent, technology, effect (output and outcome) and benefits [for society and environment] by tinkering certain process: a business may have 0% to 100% social and / or environment benefit.
5. Triple Bottom line Reporting
Develop TBL Plus (TBL+) and advocate for making economic, social and environment impact reporting inclusive with emphasis on ethics, equity, participation, effectiveness, collaboration, resilience and sustainability
Institute an award to recognize business that are reporting on TBL plus (TBL+)
6. Skilling of entrepreneurs, managers, professionals and workers
Identify courses, online, short duration and part time courses on C.K. Prahalad ideas and emerging funding process
Design, develop and run courses to cater to diversity of skills to make business work for bottom half
Specifically promote entreprenuers from bottom half of tlie populauon - rural / urban / tribal areas, women, and youth
7. Practical Research on products and services for Bottom Half of Economic Pyramid
Practical research to refine innovation, co-creation, product testing, pricing marketing, communication, collaboration to benefit bottom half of the population

Support FMCG, finance, health, media, education, mobility, logistics and telecom businesses to leverage product and services that optimally benefit bottom half

Economics of making business work for bottom half - poverty reduction, economic grouth and overall well being